Rich Experience in International Education
Sanjay is a versatile and highly creative entrepreneur who has spent more than 15 years of operational and managerial experience in the international education sector. In April 2013, he founded MSM and to this day remains passionate about international education and new opportunities to improve personal and professional strengths.
Sanjay builds models through common-sense insight, fostering informed risk-taking, creating cultures of innovation, and empowering people. He has successfully conceived, developed, marketed, and implemented solutions for start-ups, building teams, and partnerships in order to accelerate business growth.
His proven track record includes mobilizing an experienced team of more than 250 professionals; creating a vast network of education agents and counselors in Asia, Africa, and other parts of the world; and thinking up customized solutions to international students recruitment globally. He specializes in strategic partnerships, human capital management, marketing communications, and print production, to name a few.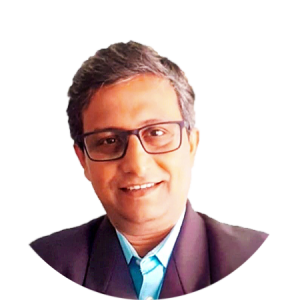 Arjun is a senior finance and general management executive with more than two decades of experience in various leadership roles in finance and business, notably in manufacturing, oil & gas, and service industries in the Middle East and internationally. At the helm of MSM's thriving finance department, Arjun will take the lead in corporate finance, analytics, business planning, FP&A, and strategy in this crucial function, making MSM a fiscally sound and healthy organization and enabling it to compete sustainably in its space. 
He has an established track record of business success as operation head, general manager, and chief financial officer for the international operations of Oman, UAE, and other multinational corporations. He has extensive hands-on experience in management, business leadership working with C-level business heads, banks and legal professionals, clients, and creditors, contributing to a wealth of operational and strategic fiscal goals. Arjun is a qualified cost and management accountant with an executive program in business management from IIM, Calcutta. 
Anand has almost two decades of experience as a data science head, AI practice lead, customer account management, and more. He has a demonstrated history of techno-functional leadership in AI. He is also skilled in Python, a programming language, data science and analytics, and cognitive automation among others. Anand is a multi-degree holder. He has a Bachelor's degree in Computer Science, a Masters in Business Administration, Computer Science and Mathematics, a Post Graduate Diploma in Applied Statistics, a Post Graduate Program in Machine Learning and Artificial Intelligence, and is currently pursuing a doctorate degree in AI and ML at Swiss University.
Playing badminton is Anand's interest outside of work. He leads his life with his motto, "Keep it simple." The most important thing for him is time, as it is the most limited resource one has. He makes sure to be kind to himself and to others as his way of contributing to society. When asked about the best word that describes him, he said, "seeker."
Suneetha Qureshi has more than 15 years experience in the international education sector. She resides in India and leads MSM's extensive back of the house operations, including MSM's human resources, financial management, information technology, and marketing, communications and social media activities. She has an impeccable track record of successfully launching the representative offices in Asia and Africa of many North American and European higher education institutions. Her key strengths include hiring, training, and developing teams, as evidenced by the successful results of the dedicated in-country college and university client teams.
She is a motivational supervisor who inspires service excellence among MSM staff and rewards high-performing employees with growth opportunities. Suneetha also leverages her excellent leadership, strategic visioning and operational management skills as a critical member of the MSM executive team. She has taken the lead in developing a number of initiatives at MSM, including building robust standard operating procedures, the Rise 'n Shine team engagement platform, and the organization's data analytics and audit segments. Among her many talents, Suneetha is a motivational speaker, lecturer and entrepreneur and is proficient in six languages including English, Hindi, Tamil, Malayalam, Gujarati, and Marathi.
Donna has worked in the international education field for 30 years. She has a comprehensive knowledge of policy and practice in the public post-secondary education system in British Columbia, Canada, and worldwide. She is a past board chair for the BC Centre for International Education and has held senior management roles at BC Institute for Technology, Vancouver Community College, and most recently at Capilano University.
Donna has demonstrated excellence in leadership with a focus on international education and services marketing, as well as in her role as interim dean of business for 3 years at Vancouver Community College. She holds an MBA with a strategic focus on Services Marketing and International Education and has facilitated the professional development of others by teaching general business and service marketing in Canada as well as internationally. Donna joined M Square Media as president after having had firsthand experience as an MSM client that was excellent.
Vice President, Global Partnerships
May is a seasoned international education business executive with almost 30 years of experience. She has held several leadership roles dedicated to growing and retaining the international students population at partner universities.
Her broad areas of expertise include business development, organizational leadership, strategic planning, and global operations. She excels at developing and supporting partnerships with universities and managing global recruitment initiatives.
She has also been an active member of several renowned industry organizations, including NAFSA: Association of International Educators, English USA, American International Recruitment Council (AIRC), and the Association of International Education Administrators (AIEA).
ASSISTANT VICE-PRESIDENT, GMO - USA
George has been a seasoned professional in international higher education for more than 20 years. He has served as a senior international officer working on intensive English programs, international recruitment, immigration, education abroad, and global partnerships throughout a career in public, private, and highly ranked academic institutions. He is closely engaged in the international education industry in professional roles and participation in associations such as the American International Recruitment Council (AIRC) as past president, NAFSA: Association of International Educators, The Association for International Credential Evaluation Professionals (TAICEP), and National Association for College Admission Counseling (NACAC).
A Fulbright Administrator Award recipient, international speaker, and award-winning scholar, Kacenga holds a Masters in Curriculum and Instruction as well as a PhD from the University of Pittsburgh in Social and Comparative Analysis in Education. 
Vice President, India Subcontinent
Chirag has years of direct experience in the education industry. As MSM's Vice President, India Subcontinent, Chirag leads the initiatives in India for both MSM Global Marketing Office and MSM Unify. Formerly the Director-Client Success for MSM GMO, Chirag managed the company's client relationships while being responsible for the company's global sales and services. Chirag is known to be highly enthusiastic and organized with a deep understanding of the international education systems, processes, and institutional needs. Chirag also has experience as MSM's General Manager, responsible for running the company's daily operations and overseeing the in-country teams for partner institutions in the United Kingdom, the United States, Canada, and Europe. Part of this role was to prime and build African and Indian Sub-continent in-country offices.
EXECUTIVE DIRECTOR, PARTNER RELATIONS, UK
Hersha Pandya is the Executive Director for Partner Relations, UK for M Square Media (MSM). She holds a Master of Laws degree specializing in Intellectual Property Law. She has an extensive background in law, business, and education.
Based in the UK, just outside London, Hersha is a dynamic and focused professional with two decades of experience working for higher education systems. She was the director of undergraduate programs at the University of Hertfordshire, the international regional director at the University of Greenwich and, most recently, director of HE Partnerships at ICEF. She brings to MSM her proven success in developing strategies and campaigns with universities to promote education in an international and national forum.
As executive director for Partner Relations, UK, Hersha will lead MSM's business development activities in the UK and EU (primarily Ireland) and the signing of new educational institutions to all of MSM's services.
The MSM International Advisory Board is an influential team of international education leaders who will provide guidance, mentorship, and advice as MSM continues to grow and expand its efforts worldwide.
The MSM US International Advisory Board serves as a body of mentors and guides for MSM's endeavors in the United States, helping the organization grow and expand its presence in the country as well as throughout the globe.
The MSM UK and Europe International Advisory Board serves as a body of mentors and guides for MSM's endeavors in the United Kingdom and Europe, helping the organization grow and expand its presence in the region as well as throughout the globe.
The MSM Australia Advisory Board serves as a body of mentors and guides for MSM's endeavors in Australia, helping the organization contribute to international education in the region.
Dean Duperron has more than 34 years of experience in the education industry, overseeing a global network of campuses emphasizing the cohesiveness between academic and vocational disciplines. He has diverse business experience, spanning operations in trades, retail, wholesale, real estate investing, market investing, party and event planning, and mentoring entrepreneurs.
He successfully built two college systems including Sprott-Shaw Community College, which he bought in 1991 and transformed into a profitable operation with 29 Canadian campuses (26 in British Columbia and three in Alberta). He also founded Sprott-Shaw Degree College, now known as Ascenda College, the first private community college in B.C. to be granted the right to confer bachelor's degrees.
Dean was born in Alberta and grew up in Vancouver. He studied biochemistry and computer science at the University of British Columbia and Simon Fraser University. Today he lives in the Greater Vancouver area with his wife, Sherri, and their three children.