International Education is a dynamic field witnessing experiential growth which can be explained in two different points. The first one refers to a comprehensive approach to education which prepares the students to be active and engaged in the interconnected world, and the second one emphasizes education that surpasses national borders by exchange of people who travel to study, work, or volunteer as part of a program.
Both these reference points are focused on developing global competencies, which foster the  individuals to possess qualities and abilities that may help them take a critical decision over a problem, understand and explain facts, opinions and ideas, work in groups with people of other countries, and participate in free dialogues.
This research gives a brief idea about the current trends of international education in Australia, the challenges faced by Australian institutions and the scope and opportunities available to the Australian institutions to increase international student enrollment.
AUSTRALIAN INTERNATIONAL EDUCATION – NOW
Australian international education is a leading brand across the globe. Every year, hundreds of thousands of students from different part of the world are attracted to Australia and hence, Australian teachings and research become widespread. International education is a vital part of the Australian economy as it acts as the basis for developing national and international business and industry. In 2014/15, the education sector in Australia measured export earnings to be at $18.8 billion, but unmeasured borderless activity recommends its size is even greater.
AUSTRALIAN INTERNATIONAL EDUCATION – THE FUTURE
International education in Australia has raised significantly in the past decade and the Australian government pronounces to own the potential of growing international education in Australia with new markets, new partnerships, new areas of teaching and research, new technology, and new modes of delivery. At present, Australia's higher education system contains 169 higher education providers, with 43 universities that attract international students, researchers and academics, and produces in-demand graduates. The graphs below showcase the trends of international education in different countries in the past 15 years.
Figure 1: Global Market Share Of Countries In 2001 And 2016
The pie charts above clearly demonstrate the growth in international student recruitment in Australia which grew by 7% in the past 15 years, making Australia the third top study abroad destination for international students.
Australia's current national strategy for international education sets an enrollment target of 720,000 international students by 2025. Standing on record enrollment of more than 550,000 students in 2016, and with average annual growth of 6.5% over the past decade, the country is well-poised to hit that ambitious target.
GROWTH AND OPPORTUNITY IN THE AUSTRALIAN INTERNATIONAL EDUCATION MARKET
Australia's international education is predicted to grow from 650,000 to 940,000 by 2025 which means an annual growth of 3.8% in all the sectors which include higher education, VET, schools ELICOS, and others.
Table 1: Projected onshore international enrollments – Higher education
Table 2: Projected onshore international enrollments – VET
Table 3: Projected Onshore Enrollments – Schools
Table 4: Projected Onshore International Enrollments – ELICOS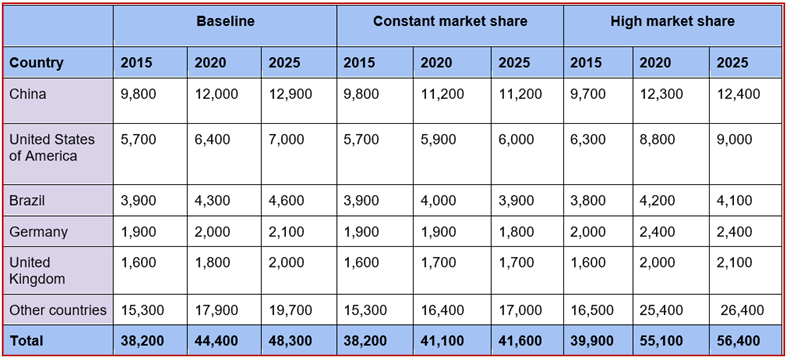 Table 5: Projected Onshore International Enrollments – Others
Australia's international education sector is expected to contribute double ($33 billion by 2025) the export earnings of the country.
The expected source markets for international student enrollment include China, India, Vietnam, Thailand, Nepal, Malaysia, Brazil, and South Korea with the maximum growth is predicted to be from Asian countries – India, Nepal, Vietnam, and Thailand.
Table 6: Market Ranking According to International Student Numbers
Higher education growth is expected from China (additional 32,000 enrollments) and India (additional 15,800 enrollments). However, apart from the top eight largest source markets as mentioned in the above table, the growth rate in the fastest growing market is also admissible based on the projections.
Chart 1: Annual % Enrollment Growth In the Largest Source Markets
Chart 2: Annual % Enrollments Growth In The Fastest Growing Source Markets
BORDERLESS OPPORTUNITY FOR AUSTRALIA
Based on the participation rates of 25-64-year-olds in formal and non-formal education in the Australian international education market, there are projections that the learners will increase by 1 billion in 2025. If Australia reaches just 1% of these learners, there would be more than 11 million learners in 2025. As this percentage increases, the number of learners would go even higher.
China, India, Vietnam, South Korea, Malaysia, and Hong Kong are among the most prospective regions for the borderless growth of the country based on the education policy and regulations in each market.
Figure 2: Key Statistics and Market Prospects for Source Markets
Enabling the Opportunities
Although Australia has a huge opportunity to grow in the international education industry, there is an immediate need for taking crucial steps to realize these opportunities. There are enablers which are capable of propelling Australia toward releasing the potential that exists.
Figure 3: Impact Of Enablers On Realizing Opportunities And Achieving Objectives
As of now, Australia has done a commendable job in overcoming the challenges of the global market, and has successfully leveraged its comparative advantages with great success. These advantages and their potential have to be maintained diligently to strengthen the chances of realizing the existing opportunities. This can be done by: