Vietnam has traditionally been a rich source of international students for Canadian higher education institutions (HEI). Before the onset of the pandemic, the number of Vietnamese international students in Canada had been consistently growing.
In this article, we will talk about trends in Canada for global learners coming from Vietnam–the number of Vietnamese students in Canada, their reasons for studying there, student permit trends, and the impact of the COVID-19 pandemic, among other things.
From only over 4,000 enrollees in 2015, the number of Vietnamese students in Canada has grown to 20,000 in 2018, making it the fifth-largest foreign student community in the country.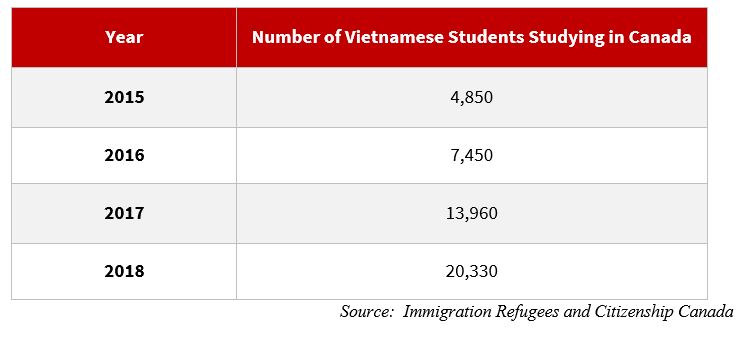 In 2018, Vietnam logged the highest one-year increase among the top places of origin at 46 percent. Based on the available data, the number of Vietnamese students in Canada rose fastest among foreign peers and now accounts for 3.55 percent of total international students in the country.
The top five student-sending countries for Canada are India (30.16 percent of all international students), followed by China (24.98 percent), South Korea (4.23 percent), and France (3.97 percent).
Meanwhile, Canada ranks fifth among countries that host Vietnamese students. The top host countries for Vietnam are Japan (72,354), the US (29,788), South Korea (27,061), Australia (24,094), and Canada (20,330).
Why are Vietnamese Students Coming to Canada?
According to research by the Canadian Bureau for International Education, international students, including those from Vietnam, are drawn to Canada by the quality of education provided by its universities and colleges. They are also attracted by Canada's reputation as an open and welcoming society. Additionally, the application procedure to acquire a Canadian study permit is much more upfront and uncomplicated.
The strength of the Canadian dollar is another consideration. While international students pay higher tuition fees than Canadian students, the expenses they incur in Canada are more reasonably priced than those incurred by international students in other top destinations.
Canada's greatest advantage is its study-work-immigrate program. International students are eligible to work in Canada to support themselves financially during their studies. Upon completing their studies, many of them are eligible to obtain a Post-Graduation Work Permit (PGWP) so that they can gain more work experience for a period of up to three years.
According to Vietnam's Ministry of Education and Training, Vietnamese parents put great importance on their child's education with spending on education accounting for nearly a half (47 percent) of the total household expenditure. In their efforts to improve the quality of education for their child, more and more parents are considering sending them abroad to study. Vietnamese families are spending as much as $3-4 billion each year on sending their children abroad to study.
With growing numbers of families from Vietnam sending their children overseas, Canada is viewed as an ideal destination for its affordable yet high-quality education.
New data from Immigration, Refugees and Citizenship Canada (IRCC) discloses the impact of the pandemic on Canada's foreign enrolment in 2020. IRCC reports that as of 31 December 2020, 530,540 international students were holding Canadian study permits. This represents a nearly 17% decline from the 638,960 students reported at the same point in 2019. And that, in turn, represents the first decline in foreign enrolment in Canada in the last 20 years.
About 80% of the year-over-year decline for last year can be traced to those same leading sending markets. The net enrolment decline of roughly 108,000 students is largely accounted for by the leading senders of India (-38,515 fewer students in 2020), China (-23,840), France (-5,595), South Korea (-5,940), Brazil (-3,455), Japan (-3,110), Vietnam (-2,600), and Mexico (-2,255).
Steady growth in Vietnamese student enrolment in Canada is expected to continue for the foreseeable future though possibly at a less torrid pace. After all, Vietnam is not China or India in terms of population.
There is also a possibility that Canada will soon surpass the US in terms of the number of Vietnamese students within its borders in the next few years as Canada now has 68% of the number of Vietnamese students in the US. According to a report published by the Institute of International Education (IIE), 24,325 Vietnamese students attended American colleges and universities in the 2017-2018 academic year.
Considering these numbers, Vietnam is poised to continue to be a growing source of international students for Canada in the post-pandemic era. The fact that Canada is offering six new pathways to permanent residency in 2021 may even jack up international student interest to get a Canadian education in the months and years to come.
What Canadian HEIs need to do, however, is to expand their reach into the country and poke the interest of more students to study in Canada. This can be done by partnering with international education providers that have a good presence in Southeast Asia and can effectively bring their institutions and programs closer to more Vietnamese students.
Extensive and more inclusive marketing solutions are key to maximizing the potential of Vietnam as the next top source of international students for Canada. (SUNEETHA QURESHI)
#PartnerForLife #InternationalEducation #InternationalStudents #MSM
Suneetha has more than 10 years of experience in the international education sector. As president of MSM GMO, she fortifies its business development outreach globally, particularly in the face of MSM's foray in edtech-based recruitment via MSM Unify. She preserves the premium, value-adding services provided to each GMO partner institution, including dedicated teams on the ground, agent management, lead generation and inquiry management, application pre-screening, and student and parent support through pioneering pre-departure briefing sessions.
She has an impeccable track record of successfully launching the representative offices in Asia and Africa of many North American and European higher education institutions. Her key strengths include hiring, training, and developing teams as evidenced by the successful results of the dedicated in-country college and university client teams.

Suneetha also has taken the lead in developing several initiatives at MSM, including building robust standard operating procedures, the Rise 'n Shine team engagement platform, and the organization's data analytics and audit segments.
References:
Canada's foreign enrolment fell nearly 17% in 2020. ICEF Monitor – Market intelligence for international student recruitment. (2021, March 11). https://monitor.icef.com/2021/03/canadas-foreign-enrolment-fell-nearly-20-in-2020/.
Immigration, R. and C. C. (2021, April 14). New pathway to permanent residency for over 90,000 essential temporary workers and international graduates. Canada.ca. https://www.canada.ca/en/immigration-refugees-citizenship/news/2021/04/new-pathway-to-permanent-residency-for-over-90000-essential-temporary-workers-and-international-graduates.html.
International Students in Canada. CBIE. (2021, February 25). https://cbie.ca/infographic/.
Quy, N. (2019, April 16). Vietnam posts the highest growth among foreign student admissions in Canada. VnExpress International – Latest news, business, travel, and analysis from Vietnam. https://e.vnexpress.net/news/news/vietnam-posts-highest-growth-among-foreign-student-admissions-in-canada-3909766.html.
The shift of Vietnamese students to Canada marches on. University World News. (n.d.). https://www.universityworldnews.com/post.php?story=20190320083629583.